At last: Tools and techniques to install your own thoughts into a person's subconscious to influence their actions, behaviours, and beliefs.
Inception is possible.
Inception is the art of implanting an idea in someone's mind and making them think it is their own.
(You may have heard similar terms, like remote influence: projecting your own thoughts, feelings, and desires to influence another person.)
Inside Inception is Possible, you're going to learn how to pull off real mind-to-mind communication to manifest the response you desire from a person of your choice. This could be a stranger, someone you already know, or even yourself.
---
What will you use Inception for?
Inception is a persuasion tool that can be used for good or evil. How you choose to work with it is all up to you. Whatever your intent, use it to send anonymous, telepathic suggestions that encourage action or behaviour change.
Here are some of the ways you can use the thought-transfer methods inside:
👋🏻 Get a specific person's attention
👫 Psychic seduction or "pre-game" before going on a date
👍🏻 Win the heart and mind of someone that disagrees with you
🤗 Send positive messages as "remote therapy" to support friends & family
💳 Convince someone to do business with you
🔥 Warm-up a stranger before initiating contact
🤔 Erase memories to heal & rebuild a relationship
💬 Nudge someone to get in touch with you
💋 Awaken sexual desire
🧭 Help others uncover truths, solve problems, find ideas "on their own"
🧠 Self-inception: Planting new ideas into yourself for your own self-development. Boost confidence, inspire new ideas for projects you're working on, find a solution to a problem you're having, motivate yourself to take action, erase toxic memories and the emotions attached to them, convince yourself of things you want to believe.
And so much more.
---
How to pull off inception in real life.
Waiting for you inside is a complete game plan for sneaking into another another person's mind.
🎧 Contact.mp3: The remote influencer's hacking-track
A mind hacking tool allowing you to access your target's subconscious, where their most influential thoughts and ideas come from — and where inception can take place.
Within minutes of playing this magically-enhanced track, you'll be transported into the zone, connected to your target on a deep level. It's here you can lift their current thoughts and replace them with yours.
🔐 3 techniques for Inception
A concise step-by-step guide showing you three simple ways to break into someone's mind and implant specific, seductive ideas without them knowing.
You'll learn: how to craft suggestions that provoke the ideal response, how to infiltrate their subconscious, and how to install your messages to manifest the result you want.
🔮 KAOS Machine — Circuit #528491
An exclusive inception-board, available only to owners of Inception is Possible. This ready-to-print circuit is built for deeply connecting to your target and impressing ideas that will dictate their actions. It's pre-loaded with 6 magic symbols for:
• Complete, undeniable subconscious access
• Inescable acceptance of your idea
• Overwhelming urge to take action on your idea for it to manifest
• The idea ever-growing within themselves
• The idea becoming their new truth
• Unlocking and enhancing your remote influence abilities
---
Bonuses to take your mind heist further:
🦠 Bonus Technique: Mind Virus
Under your spell, your target's mind is a fertile ground where seeds (opinions, ideas, suggestions) can be planted. Use this extra technique to plant a seed, a thought, and let it grow.
Once you've sown your seeds, the magic begins.
🧙🏻‍♂️ Master Sigil for Inception
Designed to unlock your remote influence abilities, this video master sigil sets you up for your inception pursuits ahead. Easy, 77-second activation instructions included.
🛡 Subconscious Security
Just one 77-second session with the Mind Militant video sigil will protect you against Inception and any other kind of remote influence, including dark telepathy and psychic attacks.
✨ Bonus Magic Technique: Reality Tweaking
Use this enchantment technique to magically affect someone's life with broader concepts like attracting wealth, love, luck, and so on.
💞 Bonus Technique: Erotic Inception for Sexually Motivating Your Target
Arouse feelings of attraction and infatuation with this extra technique, specifically for seducing another person remotely.
➕ Free updates
If you've gone through any of our learning products in the past, you already know we LOVE expanding your options with more tools and techniques. So expect more mind-to-mind communication methods delivered to your inbox for free each time this is updated.
Update 1: 18/02/21 — Bonus Technique: Erotic Inception
Update 2: 01/03/21 — Bonus Technique: Reality Tweaking
---
Common Questions
What can you use Inception for?
You can use any of these tools & techniques to manifest a range of responses and outcomes, including: getting your target to take a certain action, altering their behaviour, changing their beliefs, resolving a conflict, and more. You can also set yourself as the target for "self-inception".
Will others know it's me planting these ideas?
Inception is completely anonymous. You're in incognito mode here. Plus, your target will feel as if they came up with the idea.
Sure, you may not get credit for the idea, but you'll get your way.
I'm new to this sort of thing. Will it be difficult to get results?
Not at all. These are simple and effective techniques for newcomers with no experience. Follow the simple instructions, and you can get results — even if you haven't done anything like this before.
How often will I have to do the techniques?
Do your chosen technique at least once. The rest is up to you depending on how important it is. You're free to work on your target as often as you want; additional workings will never have a negative effect or overwhelm the person.
Will I need to study or practice for long?
This is not a long guide or training program with unnecessary theory or filler content. It's a fast masterclass — a fasterclass. It's a set of concise, results-focused instructions, getting you to use your tools and techniques quickly.
I'm not very good at visualizing. Is there a lot of visualization practice involved?
No problem! You've got a varied selection of tools and techniques to achieve the exact same result. Only 1 out of the 4 core techniques actually involves some visualization, so you're good.
Do I have to use all of the tools and techniques every time I want to do inception?
No, you don't have to. It's up to you to select one, or mix & match different parts as you wish.
What's the difference between "Inception is Possible" and your other guide "Magic is Real"?
Magic is Real shows you how to manifest specific desires, like a well-paid job, a new relationship, more clients for your business, and more.
Inception is Possible is about remote influence: projecting thoughts to impact others. You can use this to create favorable circumstances benefitting just you, or you can help others from a distance. In the latest update, we've also thrown in an enchantment technique used to magically affect someone's life.
(Of course, you can be your own target of inception. We call that self-inception.)
Is this witchcraft or black magic? Will I be making deals with any spirits?
No.
Is there anything to send me in the post?
Nope, there's nothing to ship, so you can get started almost right away. Once your order has been securely processed, you'll be emailed a link to download one neat .zip package with everything inside. No waiting around for days, no missed deliveries, no international shipping charges.
The reading material is a PDF file, the audio track is an mp3, the KAOS Machine images are .JPEG and .PNG image files, and you'll get access to a private URL and password to view the videos online. If you haven't received your download link within 24 hours, please get in touch and we'll quickly get that sorted out for you.
Is Inception only possible when the subject is asleep (hooked up to a dream machine?)
Nailed it 🤜🏻🤛🏻
But seriously, no, you can do these techniques any time. You won't have to make any special arrangements.
---
Reviews and testimonials
So before public release, we asked a small group to try these Inception techniques out in the real world. Each person was given just ONE basic version of the tool or technique to work with ( — you'll be getting 5 with complete step-by-step guidance.)
Here's what they had to say after their short time working with it: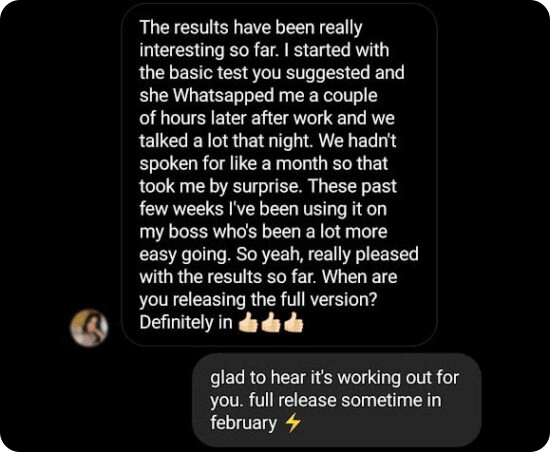 "The results have been really interesting so far. I started with the basic test you suggested and she Whatsapped me a couple of hours later after work and we talked a lot that night. We hadn't spoken for like a month so that took me by surprise. These past few weeks I've been using it on my boss who's been a lot more easy going. So yeah, really pleased with the results so far."
---
"The audio track is cool and gets me in the zone very quickly. listen to it every morning before work. Results are f***in awesome. Got a great job in sales… the work I did before the interview definitely helped. I also did the techniques on myself to feel more confident on my calls, everything feels so smooth now. My new boss complimented me on how I'm doing."
---
"The inception package is awesome. I tried psychic seduction and visualization stuff some years ago but this is way better. It's to the point and you don't have to read so much to work with it.
Results have been good. I used it mainly for seduction purposes and working on my inner game. I did the technique on a few girls about 2 months ago and within a week they were giving me a lot of great signals to work with. I'm now dating one of them and it's going well. My confidence is high and I'm feeling good in general using the self-inception techniques.
Question – I had a lot of synchronicities coming up my way after doing it. I'm guessing there are manifestation aspects added to this to help you make your goal happen? Could be wrong but seriously it's good stuff.
---
"Amazed at how well this stuff works. Another winner here."
---
"…around 2 weeks ago I started using the Mind Virus technique with the mp3. Basically this guy I met on a dating app started ghosting me all of a sudden and hadn't talked for weeks. I actually felt really bad because at the time he seemed really sweet and we had a lot in common.
I did the technique each night with a similar message each time and about 4 or 5 days into it basically he reached out and say hey. He apologized with the usual 'had stuff going on' which is a bit of a red flag but thought I'd give him a chance since I do like him. Since then we've been talking a lot more, sharing photos, takes a real interest, etc. Hopefully once lockdown in over we can meet up. Your work has always been amazing!"
---
A complete thought-projection game plan
Inside is everything you need for effective mind-to-mind communication:
• How to express your thought, idea, or suggestion in a way that triggers the ideal response from your target
• How to sneak into your target's subconscious at a deep level
• Several ways to talk to someone with your thoughts and manifest the desired response (from strangers, people you already know, and even yourself!)
---
Download your tools today. Upload your thoughts by tonight.
✨ Special Offer ✨
Get 67% off with voucher code GUIDE