Get ahead in life. With a genie-like entity that is ever-ready to guide you towards positive outcomes.
Companion is a "magic servant" that has been used for decades to power our own manifestations, and perform spells for thousands around the globe. For the first time ever: this special wizard servitor is available directly for you to work your own enchantments.
Skip years of serious time (and energy) needed to
raise a high-skill wizard servitor by yourself
🟣 Ready to listen to your specific desires or be left on auto-pilot
🟣 Continuously charged. No maintenance required on your side
🟣 100% safe, spook-free, karma-friendly. No evil spirits involved, ever
---
Get consistent results that meaningfully change your life
Although this is much more than a servitor, that's the easiest way to describe it.
So, for simplicity: A servitor is an entity, capable of granting wishes when summoned. It's a companion or personal assistant that can help you manifest your goals and dreams, and make life easier in general.
This is how the process works:
1️⃣ Choose a home for your wizard servitor (or let it roam free)
Send a photo of the object you would like to house Companion on. This could be almost anything, like a rock or stone, jewelry (like a ring), crystal, talisman; any meaningful prop. Choose something you know you'll take care of.
*If you wish, you can have a Companion roam free without any object involved. More details here.
2️⃣ Establish a connection
Once we've "cloned" your very own genie, it's ready to use! Play the included initiation tool to engage it and get the magic flowing. And because it's linked to our own master servitor (charged every day,) your companion becomes even more powerful over time, without any active involvement needed on your side.
3️⃣ Give it your own command or let it lead the way
Follow the simple steps any time you want to put your wizard servitor to work. This can be as easy as imagining your goals come to life, or listening to one of your subliminal audios, or creating your own sigil — whatever you're comfortable with.
If you don't want to be too involved with the process, that's fine too; your companion will know what it is you want from life.
---
"I've got the Companion and the PDF & MP3. All are awesome and the Companion is very powerful. Even if I give Companion several tasks he will do all without splitting the power. Really awesome. Thanks for providing us all with such an awesome being."
---
Magic you can do at any time all on your own. Without complex rituals, visualization, or meditation.
No need to drastically change your lifestyle or daily routine. Just follow along to a simple, clear, down-to-earth process to help you produce results that last.
⭐ Manifestation: Achieve your goals
Cast spells for wealth, personal development, romance, and more.
⭐ Remote influence: Plant ideas & messages
Project thoughts, feelings, and desires to influence others (or yourself.)
⭐ General use: Experience more things going your way
Switch on autopilot mode for good luck, meaningful coincidences, and positive changes.
---
"…Very pleased with the provided guide and tools. You always go above and beyond with clear instructions so we can't go wrong."
---
What's inside
Everything you need to bring your vision to fruition
• Companion initiation tool
MP3 or video track for easy activation.
• 2 core communication methods
Command your magic-making entity.
• 3 Companion request tracks
Extra magical support when you need it. Three MP3s for musical variety.
• 3 bonus approaches
Step-by-step instructions for personal manifestation, remote influence, and psychic seduction.
---
Featured inside: Spellwriting
Craft your own spells
Included in your user guide is a simple way to work with your Companion and create enchantments like the ones in our magic spells and ultra blends catalog.
---
"…Things are going well with the Companion. I already started seeing results. I gave them a name and I like that we can make our own spells just like you do."
---
FAQs — Your questions answered
What is this "entity"?
Think of it as a sort of "magical genie" who seeks to do, or provide, whatever the person who controls it asks.
Can I physically see/hear/touch my Companion?
What information do you need from me?
A photo of the object you would like to house your Companion on. And ideally (but not critical) your name, location (city/country), and DOB to create a secondary link to you.
How long does it take for you to complete the process?
Do I get instructions or anything else?
How do I use it?
• If you've used a servitor (or anything similar) in the past, you can continue doing what works for you.
• If this is your first time doing something like this, you have a few ways to make a magical request. This includes: writing down what you want to achieve, or mentally affirming (or saying out loud) what you want to achieve, or imagining your desired outcome, or symbol creation.
• If you don't want to be actively involved, but still want positive things coming your way, simply use the activation tool and let things run on autopilot.
What's the difference between Companion and regular spells?
There are lots of differences. Here's the most important:
Done-for-you spells are generally for those who don't want to be actively involved with the manifestation process.
This companion also takes care of things on auto-pilot, without you having to do anything… but it was primarily designed for those who want to direct a powerful servitor with more control. By themselves. In more specific ways.
I'm new to this sort of thing. Will it be difficult to get results?
That said, you will have to spend some time doing the manifestation practice outlined in your PDF guide so that you can set a wish.
Will I need any extra tools?
Play the activation tool on any device like a desktop computer, laptop, smartphone, or tablet. Your accompanying User Guide is in PDF format.
Is this "evil witchcraft" or black magic? Will I be making deals with any spirits?
Are there any negative side effects from having this Companion?
Who is this for?
Anyone who wants to do servitor magic for themselves or others, without having to put in the time to create and establish a connection with a new entity. That could be active manifestors, spell-casters, radionics & psionics practitioners, users of subliminals & hypnosis.
Do I really need to link my Companion to an object?
Can my Companion be removed?
I am a fellow spellcaster/competitor. I would like to use this for myself or on behalf of my clients. Is that okay?
Side note: It is not possible for you to re-clone your companion to give to others. It is not possible to hand over control to someone else. Your companion is linked to you for your exclusive use! 👍
More questions?
---
"It looks like it will replace most if not all the servitors I got from others. Thank you once again for creating truly excellent stuff."
---
Perform wish-granting magic
Manifest specific goals with extraOddinary's perfectly designed wizard servitor, working behind-the-scenes to improve and enhance your life.
✨ Special Offer ✨
Get $80 off your Companion with voucher code WIZARD
---
"This is a very interesting entity, definitely one of the most powerful I've worked with. I added it to my "toolkit" for both myself and my clients. From the first day it made things more efficient and helped take my working to the next level."
— Pro Spellcaster
---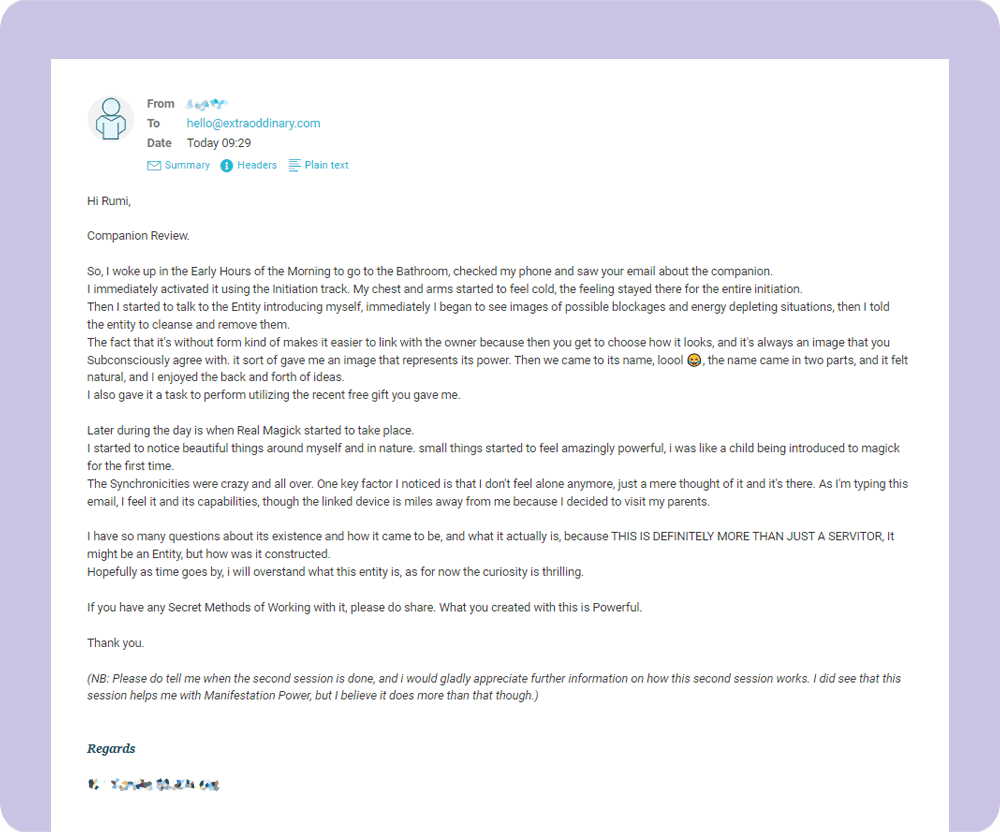 "…What you created with this is Powerful."
---
"…I've been feeling much better overall, less stressed, and I've been getting in 5/6 gym sessions a week without procrastinating or feeling burned out. This thing is awesome!"
---
"…when meditating with the Companion, I get ideas on how to work with new magick. I feel its power and it's weird because I'm not used to working with an entity that is so powerful and active."
---
"Loving my companion. All the little wins I'm having feel great."
---
Now it's your turn to manifest your perfect destiny
Click here to get your new Companion ⬆