It's never too late to master how top traders plug into the countless money-making opportunities in the financial markets every day.
---
Develop a real edge in the financial markets and create a successful trading business
With The Market Player's Game Plan, you'll get the key to trading profitably across forex, stocks, cryptocurrency, commodities, equity indices — without years of screen time, learning technical analysis, or keeping an eye on the news (or Reddit.)
Like all BO$$ wealth routes, it's made up of an actionable business strategy and the right magical backing for your pursuit of profit.
---
An actionable strategy for trading like a real trader or investor
After going through the Game Plan, you'll know…
🔎 What to look for in any price chart
You'll intuitively spot high-probability price reversals in real-time — not just in hindsight. And you'll do it without relying on technical indicators, multi-timeframe analysis, or drawing tools like trend lines or Fibonacci retracements.
⌚ When to execute the trade
Using one definitive and reliable entry trigger, you'll confidently go long or short at the most optimal time. No more analysis-paralysis or last-minute hesitation keeping you out of winning trades.
📈 How to manage the trade
You'll set stop and target levels that make sense for each individual trade. Now that you have a solid process in place, you won't ever have to guess or settle for what feels good.
---
Real magic for manifesting your business dreams
Besides your trading strategy, the Game Plan also includes the exact magical backing you need to become a consistently profitable trader and investor:
• Done-for-you: Unlock the magic inside an exclusive video spell specifically for evergrowing profits, identifying profitable trading opportunities, and more.
• Do-it-yourself: More winners? More confidence? Less FOMO? Whatever your business wishes are, the 3 magical techniques inside have your back.
---
See Through the "Chaos" on Your Charts
Once you know what to look for, you'll be able to pinpoint the areas where price is most likely to start reversing. Here are some examples showing how well this versatile strategy works in various markets and timeframes.
Gold (XAU/USD) — The Weekly Chart
Here we're looking at Gold using the weekly time frame. Out of the seven opportunities, six were winners, all exceeding our initial target.
---
Bitcoin — The 4-Hour Chart
Seven opportunities in Bitcoin using the 4-Hour chart. Six of these were winners that comfortably hit our initial target.
---
USD/JPY — The Daily Chart
Five opportunities in USD/JPY using the Daily time frame. Four of these passed well beyond our initial target.
---
Oil – US Crude — The Monthly Chart
Lastly, using the Monthly timeframe, we have seven opportunities in Oil giving us six winners.
---
Is this right for you?
You're ready for the Game Plan if you can say "Yes" to any of these:
1. You're a fairly new trader with some basic trading knowledge. You want the speedpass to acquiring the skills needed to execute winning trades. You don't want to spend years "paying your dues" by analyzing price charts bar-by-bar for hours each day. Or backtesting hundreds of different indicator combinations hoping you'll find something useful. You want to make money by mastering what top traders actually do every day.
2. You're already in the game. You're making some money but feel like you could be doing better. You don't want more stuff to learn — you want things to execute and profit from.
3. You're stuck inside the typical trader's struggle. You've spent countless hours searching for the perfect, "Holy Grail" trading strategy on forums, articles, books, YouTube. You're losing money and not understanding why.
But you haven't completely given up on trading just yet. You believe you can actually do this. All you need is some specific guidance and directions for you to follow. A real trader's proven game plan for selecting reliable trading setups.
Here's your chance to find out exactly what you need to do, and how you need to do it.
---
Market Signals App
And if you're not keen on learning how to trade, no prob. Simply open up the daily livestream to get expert-selected trading opportunities.
You'll get the exact market to trade, when to go long or short, and a suggested stop and target profit level. Easy.
Example: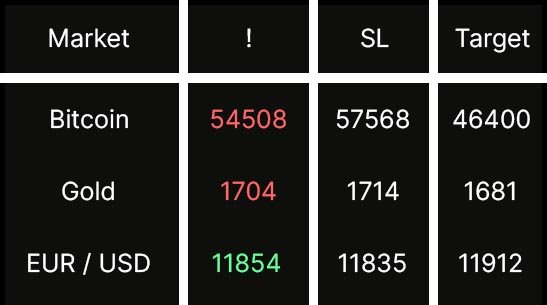 ---
Avoid the typical trader's struggle. Trade like the 5% who succeed
The Market Player's Game Plan will be available soon.
Get ready to reinvent yourself into the kind of trader that can quickly spot great opportunities on any price chart, and execute with the confidence of a seasoned pro.
Sign-up for a one-email alert, more details, and a special intro offer on release day.
You'll get one email reminder
---
Disclaimer
All trading involves risk. Past performance is no guarantee of future results. Never trade with money you cannot afford to lose.