Magic, the kind that will work, isn't easy to find out how to do. The Magic is Real manifestation guide shows you exactly how to get truly magical results using powerful methods that you can pick-up quickly and easily. Even if you're new to all of this.
Achieve your goals. Attract opportunities you wouldn't normally have. Make unlikely events more possible.
Inside the Magic is Real guide, you have three tried & tested ways of steering what you know as "fate" in the direction you choose. Use any of these manifestation techniques to produce an incredibly broad set of magical results, including:
💖 Love and Sex
Take control of your romantic destiny, and bring in your ideal life partner who will love, cherish, and adore you.
💸 Money and Business Profits
Build the level of wealth you seek by attracting more financial opportunities, including: unexpected cash, gambling wins, a well-paid job, and more clients and sales for your business.
🧠 Power and Personal Development
Besides obtaining physical desires and improving luck, you can use magic to change your habits, boost confidence for a better social life, improve your sexual desirability, spark creativity and motivation to get important things done, expand your network, and so much more.
---
Skip hundreds of hours figuring out how to do effective magic with beginner-friendly, results-focused instructions
• Made specifically for newcomers
Unlock your manifestation powers and get wicked, real-world results without taking ages figuring out "the right way" to do magic. No previous experience, "special powers", or psychic gifts needed.
• Ultra-effective methods without the goofy hocus pocus
Minimalistic, down-to-earth modern magic routines that don't require hard-to-obtain items, expensive tools, or elaborate time-consuming rituals.
• Step-by-step guidance
Get it right and avoid critical errors with the best experienced-driven instruction, presented for easy understanding and execution.
---
💬
"You distill all this stuff down to practical principles & protocols and virtually eliminate the spookism/shock value that people strongly associate with these kinds of occult practices."
— Course Student
---
Seven lessons for creating magical results
If you know what you want from life but don't know how to get it, the strategies within this guide will help you — even if you're new to magic.
Lesson 1: Magic Fundamentals
In your first lesson, you'll learn about the mysteriously powerful driving force behind your manifestation abilities and how to use it effectively for real magic.
Lesson 2: Being Magically Effective
Understand what actually needs to happen for magic to work, and consider these optional daily exercises that will ultimately help you manifest your desires with even more ease & efficiency.
Lesson 3: Your First Step
Each manifestation technique begins here: the most important step in performing real magic. Learn the 8 specific rules you must follow at this essential step in order to get good results.
Lesson 4: Magic Symbols (Technique One)
Discover one of the most powerful spell-casting techniques used to architect your desired reality. Along the way, you'll learn how to improve the likelihood of your desired event, create powerful magic charms and audio spells, enhance your magical proficiency, and lots more.
Lesson 5: Mental Imagery (Technique Two)
Here, you're taken step-by-step through another manifestation technique used to create a wide variety of magical results: from changing your behaviors, to attracting golden opportunities, to securing material desires.
Lesson 6: Voodoo Fiction (Technique Three)
Transform your reality with a technique we like to call Voodoo Fiction — the last of three effective manifestation strategies taught in the Magic is Real guide.
Lesson 7: Final Points
Following this seven-point manifestor's checklist will optimize your magic practice and results. Get these final points right, and you'll unlock magic's full life-changing potential.
---
💬
"…I have found no better resource than Extraoddinary's masterclass on magick."
— Blog: http://pepethefrog.faith
---
Everything you need to perform real, wish-granting magic
Inside your 94-page PDF manifestation guide:
• Esoteric knowledge and practice condensed for any-level manifestor
• 3 effective, easy-to-follow strategies
• Magical hacks, tricks, and shortcuts to accelerate your manifestation results
---
Magical bonuses to help you along the way:
• Helpful 3-minute video run-through helping you apply one of the core techniques.
• Key.MP3 audio track to help make it even easier to activate the magic.
• Usually only available to private students and at in-person workshops, Building Blocks PDF handout takes a closer look at the core technique in Lesson 4.
---
💬
"A powerful book."
— Course Student
---
Common Questions
What extra materials will I need?
For Technique 1 and 3, you'll need some paper and something to write with. Technique 2: just yourself!
Huh? That sounds way too simple. Isn't magic all about lighting candles, stabbing voodoo dolls, and talking to spirits?
Try not to discount the methods just because the tools are simple. This guide is all about what actually makes magic happen, and how you can do it efficiently & effectively without any fancy tools, complex rituals, or superstition.
Are these methods difficult?
These are some the least complex and most useful forms of effective magic. You won't get them wrong.
I'm a total newcomer to this kind of stuff. Will this work for me?
Yes. The methods are simple and don't require any experience to get good results.
Do I have to perform all three techniques every time I want to manifest something into reality?
No, simply pick the one that suits you. Of course, you can combine techniques if you feel like it.
Will anything spooky happen to me?
The only thing that may be considered "spooky" is when your desire presents itself in your life. (Don't worry, you'll get used to it.)
Are there any negative side-effects?
None.
Of course, before working with the techniques, it's important to make sure you'll be satisfied with your desired outcome. You're working powerful magic, so you should be careful what you wish for.
Is this witchcraft or black magic? Will I be making deals with any spirits?
No.
Do you discuss money/love/sex?
The guide shows you magic techniques that can be applied to any kind of achievable outcome, including money, love, or sex.
What's the difference between "Magic Is Real" and your previous guide, "Magic"?
The previous 10-page guide discussed only one basic technique. This new 94-page guide discusses, in greater detail, 3 core techniques, variations, and much more.
Is there anything to send me in the post?
Nope, there's nothing to ship, so you can get started almost right away. Once your order has been securely processed, you'll be emailed a link to download one neat .zip package with everything inside. No waiting around for days, no missed deliveries, no international shipping charges.
All your reading material is PDF, the optional audio track is an mp3, and you have a private URL and password to view the video online. If you haven't received your download link within 24 hours, please get in touch, and we'll quickly get that sorted out for you.
Got more questions?
Email us over here, and we'll get back to you soon.
---
Reviews and testimonials
Hear from others who have been using these manifestation techniques to materialize their deepest desires successfully:
📈 Achieve your business goals
"Hey! It's going really well, thanks. I took your suggestion and started making lots of sigils based on a breakdown of my business goal. So I cast spells for everything like more product sales, warm leads, traffic, finding useful connections that could help me, etc.
Probably the best thing that happened to me was finding someone in a similar niche who now promotes my store to his email list. He has a large audience and now I'm getting consistent sales and going to reinvest that money into more paid advertising. The course is amazing and definitely helped in kickstarting my businesses! Thank you!! Your ebooks have always been high quality and super effective."
---
💖 Bring new love into your life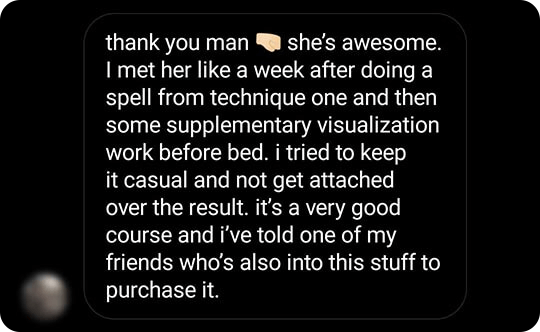 "…She's awesome. I met her like a week after doing a spell from technique one and then some supplementary visualization work before bed. I tried to keep it casual and not get attached over the result. It's a very good course and I've told one of my friends who's also into this stuff to purchase it."
---
✨ Get a well-paid job, boost confidence, and attract opportune circumstances
"Very pleased with the results so far. I've manifested a job with better pay, my confidence has greatly improved, and just been having very good luck in general!"
---
💡 Learn how magic really works
"I tried working with magic symbols before but they never worked until now. This is a little masterpiece!"
---
⚡ Have a complete game plan for manifesting your desires
"Some people just want to know what to do… what exactly needs to be done for this to work. That's what I love about extraOddinary.com… he does that so well."
—ATL Carver, author of "You're Imagining Things", on The Higherside Chats podcast
---
Change your life and control the types of
opportunities that come your way
✨ Special Offer ✨
Lucky you! You've got a sweet special offer.
Get 50% off with voucher code MAGIC