Join thousands of success seekers inside
VIP club members — extraOddinaires as we like to call them — are special. They get stuff they love, for free. They get early access and sneak previews. And they get exclusive discounts and special offers. Join 'em using the quick form below:
No more than 1 or 2 emails in a month. Unsubscribe anytime with just one click.
---
Limited edition inventions you won't ever see released publically
A few of the magical goodies sent in previous newsletters. Don't miss the next!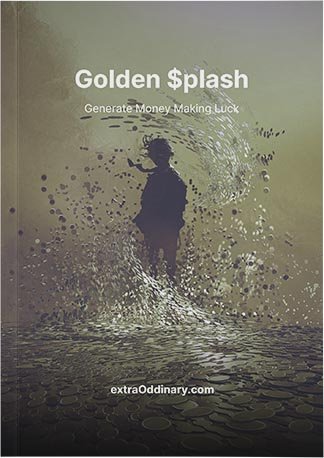 Golden $plash
Generate money making luck
An effective money magic ritual and video & audio spell used to attract golden opportunities to find, make, or earn money; get clients and customers for your business; land your ideal job; and more.
Sapphire Swirl
Protect against harm and evil influences
A protection video spell for warding off curses that undo your good fortune. (It also makes it less likely for you to face any general, day-to-day nastiness with people, and protects you from negative energy/influence given off by others.)
Clover Machine
Generate luck for your number one goal
A symbol-based ritual for achieving that one big thing you think about every day. Simply fill in the box and let the magic work to create a wide variety of magical results: from changing your behaviors, to attracting golden opportunities, to securing material desires.
…And more
The next unreleased magic invention is just around the corner.
Jump back up to get upcoming exclusive inventions ↑
---
FAQs — Your questions answered
What is VIP Club?
It's a once-in-a-while newsletter for magicians and manifestors. It features free magic inventions that aren't available on site. Plus, you'll be the first to hear about special events and offers.
How often will I get an email?
There's no precise schedule, but there's usually something cool coming up roughly every month or two.
Can I unsubscribe?
Sure, simply click the removal link at the bottom of the newsletter.
I'm trying to sign up, but my email address isn't working with the form?
If we've been friends for a while, you're probably already subscribed. But if you think there's an issue, or simply want to make sure you're on the VIP list, get in touch and we'll get that sorted out for you.